Blogs : Archives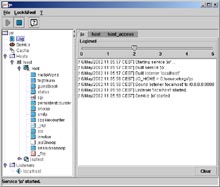 A few years ago I was quite excited by jo! as a servlet container to do RIFE development with. However, at the time it only supported version 2.2 of the servlet spec and I wanted to use filters.
Since RIFE is soon to hit version 1.0, I decided to go over the available servlet containers again and noticed that tagtraum silently released version 1.1 of jo! which supports version 2.3 of the servet spec. What I like about this servlet container is that you can run it with or without a Swing GUI. The GUI is very handy since you can very easily experiment with your setup and immediately have access to all the log files. You can even deploy WARs by simply dragging and dropping them on the windows (doesn't seem to work on MacOSX yet).
This is the full feature list:
HTTP/1.1 including byte-ranges, auto-chunking, pipelining, etc.
Servlet API 2.2 (2.3 starting with jo! 1.1)
JSP 1.1 (1.2 starting with jo! 1.1)
Source level JSP debugging a.k.a JSR-45 (starting with jo! 1.1)
Auto reload of WARs
Hot deployment of WARs
Drag and drop deployment of WARs
Auto internationalization
Auto servlet and jsp reloading
Easy to use Swing console
Advanced thread management
Memory sensitive file cache
Automatic compressed transfer of text or html files
Virtual hosts
Mac OS X support
Embeddable
...
Give it a try when you're developing your next web application.
Comments
Still, why? Can you give your reasons why you want to use it over Tomcat? Jo!'s answer in documentation doesn't answer their own question of why use Jo! either.
Convenience: download, click, drag&drop war, visit site. That's really nice.

Having immediate access to the logs and the complete configuration with a Swing GUI is also a great feature.
[Delete all selected]
Add a new comment
Comments on this blog entry have been closed.